Site Visitor Cookies Policy
Cookie policy governing the use and dropping of cookies by S.L.I Systems, Inc. and its affiliates SLI Systems (UK) Limited and SLI (Japan) K.K. ('SLI') on websites of SLI customers ('Customer Websites')
Information about our use of cookies
SLI is a leading provider of site search, navigation, and other online business optimization services. This policy describes our general practice and procedure for collecting, using and disclosing information about Customer Website users, in particular how we use cookies to track consumer behaviour on those websites.
What are cookies?
A cookie is a small text file that a website saves onyour computer or mobile device when you visit the site. It enables the website to remember your actions and preferences (such as login, language, font size and other display preferences) over a period of time, so you don't have to keep re-entering them whenever you come back to the site or browse from one page to another.
We use cookies on our customer websites to provide the website user  with the best possible user experience and to also track the user's online activity for the following purpose:
To improve the user's experience on the Customer Website; SLI tracks the user's website activity, patterns and preferences to enable SLI to provide the user with the best user experience; for example, to customise the content of the Customer Website (such as language) to the  location of the user.
SLI uses the following cookies on customer websites which can be split into two categories: essential and non-essential cookies:
Essential cookies – no consent is required:
Strictly necessary cookies. These are cookies that are required for the operation of the Customer Website. They include, for example, cookies that enable the user to log into secure areas of the Customer Website, or use a shopping cart.
Non-essential cookies, the following cookies are only stored on your device when consent is given:
Analytical/performance cookies.They allow SLI to recognise and count the number of visitors and to see how visitors move around the Customer Website when they are using it. This helps SLI improve the way the Customer Website works, for example, by ensuring that users are finding what they are looking for easily.
Functionality cookies.These are used to recognise you when you return to the Customer Website. This enables SLI to personalise the content for you and remember your preferences (for example, your choice of language or region).
Targeting cookies.These cookies record your visit to the Customer Website, the pages you have visited and the links you have followed. SLI will use this information to make the Customer Website more relevant to your interests. SLI may also share this information with third parties for this purpose.
How can the cookie settings be changed?
You may refuse to accept cookies by activating the setting on your browser which allows you to refuse the setting of cookies. However, if you select this setting you may be unable to access certain parts of the Customer Website. Unless you have adjusted your browser setting so that it will refuse cookies, our system will issue cookies when you use any Customer Website.
We always want you to be in control of the information you share with us, and there are a number of ways that you can remove or block cookies at any time, including by following the help file directions in your internet browser.
If you wish to delete cookies you can do so through your browser, and further information on how to do this can be found here: http://www.aboutcookies.org/DEFAULT.ASPX?page=2.
You can find more information about the individual cookies we use and the purposes for which we use them in the table below: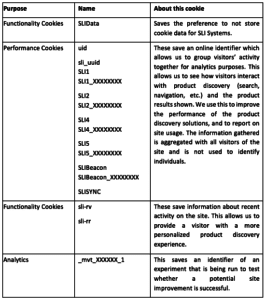 Please note that third parties (including, for example, advertising networks and providers of external services like web traffic analysis services) may also use cookies on Customer Websites over which we have no control.
As mentioned before in this cookie policy, you can block cookies by activating the setting on your browser that allows you to refuse the setting of all or some cookies. However, if you use your browser settings to block all cookies (including essential cookies) you may not be able to access all or parts of the Customer Website.
Except for essential cookies, all cookies will expire after 2 years.